Small victims need BIG friends.
Paluxy River Children's Advocacy Center provides the following programs for PTA'S,
Teachers, Churches, Civic and Professional Organizations:
We would love the opportunity to come and talk to your group, church or school at no cost to you. Interested in having us talk to your group? Contact Traci traci@paluxyrivercac.org.

We have presentations for all age groups on a number of topics:
• Child abuse
• Child abuse prevention
• Digital safety
• How to recognize and report child abuse
Child abuse does not have to be a topic that is feared. PRCAC has various ways to make prevention
and awareness fun, so both children and adults can understand.
Happy Bear
Happy Bear teaches children about welcome and unwelcome touches (hugging, hitting, or pushing), who to tell, and how to get out of a situation when they are getting an unwelcome touch.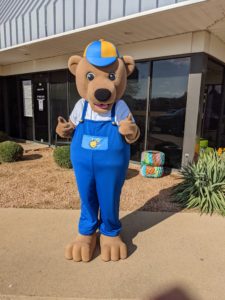 P. S. It's My Body
• Recognizing and avoiding people, situations and decisions that threatens a child's personal safety
• Establishing personal boundaries that no one, not even a relative, should ever cross
• How to report abuse or attempted abuse to trusted adults
• Trusting and following their instincts about people and situations
It's Not Just Jenna
• A video of a family recounting their experience with sexual abuse and the recovery process will be shown and a discussion on grooming techniques, abuse indicators, and how to respond will follow the video.
Recognizing and Reporting
• This training is designed to allow one or more members of an organization to receive training and consultation on teaching Recognizing and Reporting Child Abuse to the staff of their respective organization. Utilizing a video-based format, this presentation will educate child-serving professionals on the basic issues of child abuse and increase the knowledge of the following:
1. The realities of child abuse detailing who become victims of child abuse, who the likely perpetrators are, and the prevalence of abuse in all communities
2. The legal definitions of child abuse, assuring that those in the community can recognize abusive situations as determined by law
3. Policies within child-serving organizations that need to exist to prohibit the potential for abuse
4. Signs and symptoms of physical, sexual, and mental abuse, as well as neglect
5. How to communicate with a child who makes a disclosure
6. How to make a report and how to overcome one's fears/barriers around reporting
7. What an advocacy center does and its unique role in the community
If you would like to see our presentation sequence and how we see all of these presentations fitting together in the school system click here